Braking Resistor Box for converter resisotor, inverter resistor
Product Detail
Product Tags
Resistance boxes are used to add resistance in to an electric motor circuit for modifying the performance characteristic of slipring induction motors of EOT cranes, rubber mills, steel rolling mills, cement mills, power plants, conveyors, coke oven, blowers etc for speed control and developing staring torque with low starting currents.
They are also used as Dynamic breaking resistor for VVVF. A.C. Drives electric loading of ac alternators, de generators and dynamometers. Resistors are designed to meet requirements of both A.C. and D.C. Applications.
The RBRU series of products are resistor boxes that are assembled with Wire Wound Resistor and are applicable to power-consuming circuits of inverter for braking equipment with large rated power and current, testing equipment, elevator and crane.
All kinds of brake resistors manufactured by Teamwill can be customized for customers, our products are widely used in ship and military industry, photovoltaic, wind power generation, ports, oil drilling, industry transmission, rail transit, new energy vehicles, etc.
1. Power Range:2.4KW~20KW
2. Voltage Range:<1000V
3. Resistance Range:1Ω~1KΩ
4. Withstand Voltage:AC3000V 50Hz 5S
5. Ingress Protection:IP20/IP23
6. Element Material:0Cr25Al5
7. Temperature Coefficient:≤400ppm/℃
8. Vibration:0.5g
9. Advantage:relatively bad working environment
10. Disadvantage:low operating voltage
█ Electrical Schematic Diagram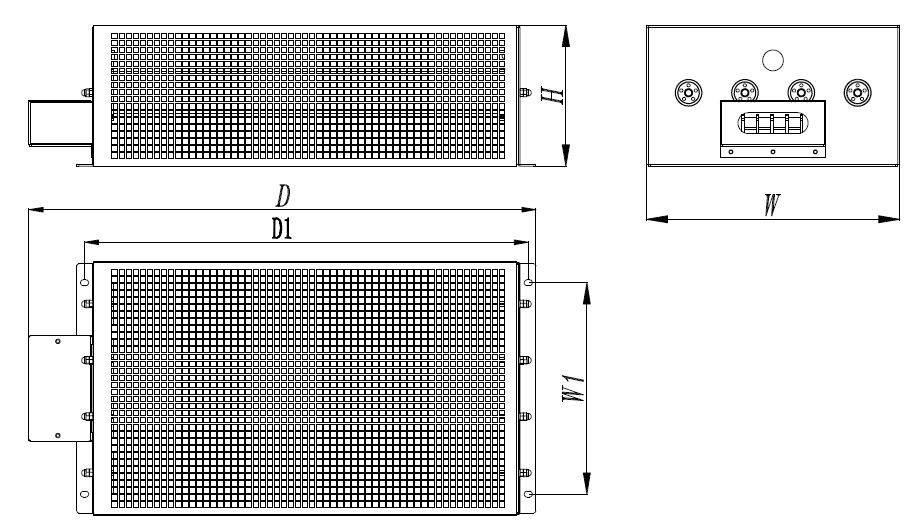 Rated

 Power(KW)

Dimension (mm)

Terminal

Weight(Kg)

Cable

(mm2)

Resistance Range(Ω)

Note

W

±3

D

±3

H

±3

D1

±4

W1

±1

安装孔

Mounting

2.0

200

420

190

330

175

OB9×12

M6

7.3

6

1Ω~1KΩ

1KW*2

3.0

200

535

190

445

175

OB9×12

M6

9.5

6

1Ω~1KΩ

1.5KW*2

4.0

360

420

190

330

300

OB9×12

M6

11

10

1Ω~1KΩ

1.0KW*4

4.8

360

535

190

445

300

OB9×12

M6

12.5

10

1Ω~1KΩ

1.5KW*4

6.0

360

535

190

445

300

OB9×12

M6

12.5

10

1Ω~1KΩ

1.5KW*4

8.0

360

630

190

540

300

OB9×12

M6

15.4

16

1Ω~1KΩ

2.0KW*4

10

360

720

190

630

300

OB9×12

M6

17.2

16

1Ω~1KΩ

2.5KW*4

16

360

720

350

540

300

OB9×12

M6

30.8

16

1Ω~1KΩ

8.0KW*2

20

360

720

350

630

300

OB9×12

M6

34.4

16

1Ω~1KΩ

10KW*2
Remarks: for other technical parameters & requirements please contact with our company's business man
---
Previous:
Water Cooling Resistance Cabinet
---